Podcast/Video Interviews by Stephen Ibaraki
A Chat with Neil Trevett, President of the Khronos Group; Chair of the Metaverse Standards Forum; Vice President of Developer Ecosystems at NVIDIA
This week, Stephen Ibaraki has an exclusive interview with Neil Trevett.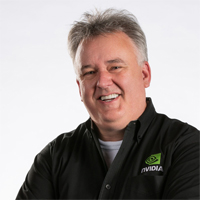 Neil is Vice President of Developer Ecosystems at NVIDIA where he helps enable applications to take advantage of advanced GPU and silicon acceleration. Neil is also the elected President of the Khronos Group, where he initiated the OpenGL ES standard now used by billions worldwide every day, helped catalyze the WebGL project to bring interactive 3D graphics to the Web, fostered the creation of the glTF standard for 3D assets, chairs the OpenCL working group defining the open standard for heterogeneous parallel computation, and helped establish and launch the new-generation Vulkan API.
Before NVIDIA Neil was at the forefront of the silicon revolution bringing interactive 3D to the PC, and he established the embedded graphics division of 3Dlabs to bring advanced visual processing to a wide range of non-PC platforms.


TO WATCH THE VIDEO INTERVIEW, CLICK ON THIS MP4 file link