Podcast/Video Interviews by Stephen Ibaraki
Chat with Imagine Cup 2022 Winners, V Bionic team, ExoHeal solution: Zain, CEO; Faria, Design Head; Asfia, Operations and Community Head; Ramin, CTO. ExoHeal; a therapeutic exoskeleton device with sensors, and extensive and intuitive app (working with Microsoft Azure / solutions) that helps patients with hand paralysis to experience a faster (30% improvement), more comfortable (targeting like a second skin), and inexpensive ($15K marketplace to under $1K for ExoHeal), 3 stage rehabilitation process (with deep clinician and community support with 360 accessibility via mobile) to improve patients physical and mental health. International recognition through Global Finalists in the Google Science Fair and Social Innovation Award winners at the Diamond Challenge, World Champions of Imagine Cup as key Gems in their crown towards success; on the inspiration to do more for humanity and by implementing tech-for-good.


This week, Stephen Ibaraki has an exclusive interview with Imagine Cup 2022 Winners, V Bionics team, ExoHeal Solution: Zain Ahmed Samdani, Faria Zubair, Asfia Jabeen, Ramin Udash.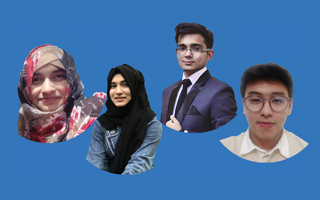 Photo - Left to right: Asfia Jabeen, Faria Zubair, Zain Ahmed Samdani, Ramin Udash


Zain Ahmed Samdani (CEO) Germany
Zain was born in India and brought up in Saudi Arabia. He's now studying robotics and Intelligent systems at Jacobs University, Germany. Zain's changemaking journey started at the age of 5. He recalls that his mother tirelessly taking care of household chores and her children. He then noticed that she did not have any leisure time for herself. This prompted Zain to exclaim that he was one day going to develop a robot that is going to take care of all her household chores. That was the spark that led to his budding entrepreneurship conscience. Since then, Zain has involved himself in various changemaking projects. From developing prosthetic hands for amputees to now developing exoskeletons for paralyzed patients. He's also passionate about arts and athletics.
"This journey has taught us the profound impact of developing a mindset that seeks to make the best out of every situation."

Faria Zubair
Faria was born in India and now living in Saudi Arabia. She is studying bachelor of Arts in IGNOU University and is a student at UoPeople. Faria has always been fascinated by fashion and believes in impacting lives with the help of technology. She incorporates STEM with fashion to create unique assistive apparel that are not only aesthetic but also functional. Faria uses her skill set to change perceptions regarding assistive technology from "Aww" to "Awe"!
"Through, hard work, out of the box thinking and most importantly possessing the drive to instil a positive change has enabled us to look at our goals from various perspectives and create a solution that reflects the needs of those it caters to."

Asfia Jabeen (Operations) Saudi Arabia
Asfia was born and brought up in India and currently resides in Saudi Arabia. She has been a Science and Arts enthusiast since her childhood. She completed her bachelors from India and is now pursuing her masters at the University of People, USA. She's an active participant in social work having been brought up with the mindset of helping people going through all walks of life. She has personally experienced many relatives struggling at the hands of paralysis. Looking at the several problems and difficulties faced by these patients, she wanted to build a solution that empowers patients to put in more effort towards their rehabilitation. She primarily works in tangent with physiotherapists to enhance patients' rehabilitation experience. She uses her counseling experience to add value, understand the patient's plight and develop an efficient rehabilitation routine, giving them hope.
"It will be an achievement even if we can change the life of one paralyzed person and their families."
Ramin Udash (App Developer) Germany
Ramin Udash was born and brought up in Nepal and is currently a first year Computer Science student at Jacobs University Bremen in Germany. He started coding at the age of 12 and has published and worked on several apps on App Store and PlayStore with over 100k active users. He is the app developer and UI/UX designer at ExoHeal and is always seeking to build products people can use. He and Zain met in college and resonated with the idea of using technology to better the lives of people. At ExoHeal, he is helping in the making of recovery for hand paralysis patients easy, accessible, and portable using his skill sets in app development.
Themes

Zain inspired from a family member's journey with hand paralysis and designing a robotics exoskeleton to assist and accelerate rehabilitation. Each team member having similar experiences.
Faria joining the team to take her design aesthetic and fashion background to transform the exoskeleton towards a second skin and fashion integration.
Asfia adding her network and experience with patients, clinicians and community to encourage feedback, build optimism throughout to improve recovery, driving for neuroplasticity/neurogenesis (activating mirror neurons) for faster and improved outcomes.
Ramin with his computer science specialty working on having ecosystems combine for the platform solution using Azure: IoT, Mobile, Stream Analytics, Power BI, Blob Storage, Cognitive Services and Machine Learning.
Team members discovering each other through community experiences, competitions, university innovation programs/projects.
Ecosystem and platform solution allowing remote monitoring, assistance, accessibility, lower costs.
Clinical trials growing in 2022.
Scaling with a startup.
Imagine Cup providing mentoring, recognized community for showcasing solution, global networking, empowering community, tech for good accessibility, meaningful feedback for improved solution design, pitching experience for focusing on the core solution key elements, ...endless.
Future: expanding from hand to arm and other areas; ability to be integrated in the metaverse for improved outcomes.
Outside the interview. Team quotes:
"After using ExoHeal's therapy, patients felt sensations in their paralyzed hand on the very first day! Weeks or months faster than traditional therapy" – Zain Ahmed Samdani, Team V Bionic
"We make recovery more accessible for paralyzed patients by connecting them with doctors over remote distances." – Ramin Udash, Team V Bionic
"Using robotics, neuroscience and machine learning technologies, we hope to make hand disabilities less alarming, enable patients to regain use of their hands, return to their daily tasks, reduce their mental stress and most importantly restore self-confidence." - Zain Ahmed Samdani, Team V Bionic
"It is an achievement for us even if we uplift the life of a single paralyzed person. We are aiming high to help as many patients as possible to recover faster, uplift their lives and lead a normal life again. For us, success is not about how much we grow, it's about how many people we bring up with us." - Asfia Jabeen Zubair, Team V Bionic
"Incorporate Fashion with STEM to create visually appealing changemaking solutions, whether it's a prosthesis or a wearable therapeutic device or a dress which can fit all sizes and change colours as one likes." - Faria Zubair, Team V Bionic

TO WATCH THE VIDEO INTERVIEW, CLICK ON THIS MP4 file link