Podcast/Video Interviews by Stephen Ibaraki
A Chat with Matt Johnson: Co-founder and CEO QC Ware; past managing director in private equity at Apollo Management; Investor; about quantum computing
This week, Stephen Ibaraki has an exclusive interview with Matt Johnson.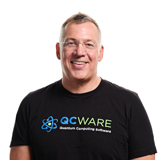 Matt Johnson leads QC Ware's business and he serves on the QED-C governing board. Matt was a captain in the Air Force and subsequently worked in finance, becoming a managing director in private equity at Apollo Management.
Matt swam the English Channel and remains an avid swimmer.


TO WATCH THE VIDEO INTERVIEW, CLICK ON THIS MP4 file link