Podcast/Video Interviews by Stephen Ibaraki
A Chat with Christoph von Toggenburg: CEO of World Vision Switzerland and Liechtenstein and Global Leadership Fellow at the World Economic Forum (WEF); Founded the Colour the World Foundation; Speaker; Author; member of Young Presidents Organization (YPO); Board Member of YPO's Peace Action Network; about working in the frontlines of world conflicts, humanitarian efforts, bringing awareness to social issues worldwide
This week, Stephen Ibaraki has an exclusive interview with Christoph von Toggenburg.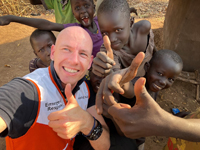 Christoph is the CEO of World Vision Switzerland and Liechtenstein and Global Leadership Fellow at the World Economic Forum (WEF) where he was Head of Social Engagement and the Global Future Council on the Humanitarian System.
Prior to his WEF engagement, he worked for ten years on the frontlines of conflicts in Asia, Africa, the Middle East and South America for the ICRC and UN.
He founded the Colour the World Foundation, helping leprosy patients around the world and carried out humanitarian expeditions such as Alegria (2010), Bike for Help (2002) and Run for Help (1998).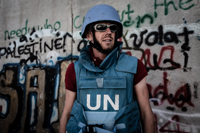 His public talks, humanitarian efforts, and visual work, capturing social issues worldwide have garnered numerous international awards, including 50 international film awards for his documentary 'Alegria - A Humanitarian Expedition'.
He holds Master's Degrees in Arts, International Relations and Global Leadership. Christoph speaks five languages and has lived in more than 15 countries.
Christoph is a member if the Young Presidents Organisation (YPO) and serves as Board Member of the YPO's Peace Action Network.
Discover more about his endeavours at www.vontoggenburg.com or connect on Linkedin
Christoph lives by the motto, Be Brave, Be Kind, Be Bold!


TO WATCH THE VIDEO INTERVIEW, CLICK ON THIS MP4 file link