Podcast/Video Interviews by Stephen Ibaraki
A Chat with Noni Purnomo: Innovator; Mentor; Philanthropist; President Commissioner/Chairperson of PT Blue Bird Tbk; Founder of Blue Bird Peduli; Transformational Inspirational YPO Leader; about the being agile, innovative, and the importance of giving back
This week, Stephen Ibaraki has an exclusive interview with Noni Purnomo.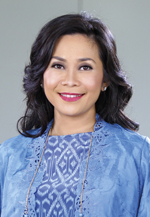 Noni Purnomo began her career at Blue Bird Group as a member of the technical staff, the stepping stone to becoming the President Director of Blue Bird Group Holding (PT PCD) and a Commissioner of PT Blue Bird Tbk in 2014.
She was elected to serve as President Director and CEO of PT Blue Bird Tbk in mid-2019. At the end of August 2021, Noni became President Commissioner/Chairperson of PT Blue Bird Tbk. Noni Purnomo is a founder of Blue Bird Peduli, a philanthropic arm of Blue Bird, co-founder of several Angel Investment Companies and an active Mentor of several Startup companies.
Noni holds a bachelor's in Industrial Technology from the University of Newcastle, Australia, an MBA from the University of San Francisco (major in Finance and Marketing). In 2019 she received an HC Doctorate from the University of Newcastle, Australia.
She is the recipient of numerous honours for her business acumen and philanthropic and community-oriented activities.
*list of awards and business affiliations available upon request
TO WATCH THE VIDEO INTERVIEW, CLICK ON THIS MP4 file link