Podcast/Video Interviews by Stephen Ibaraki
A Chat with Tamara Loehr: Award-winning Entrepreneur; Mentor; Co-founder Beusail; about net-positive brands and 'business for good', mentorship, and making a collective positive impact
This week, Stephen Ibaraki has an exclusive interview with Tamara Loehr.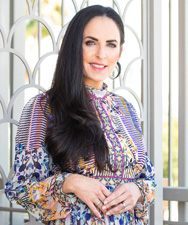 Tamara is a globally recognised and award-winning entrepreneur, including a Gold Stevie Award in New York for Fast Growth, Fast Starter Top 20 and 3rd place in Smart Company.
Tamara is a nature and animal lover, Australian, and mother of 2. Tamara started her first business, a branding and marketing agency, at the age of 19 years old after graduating from university with a Bachelor of Visual Arts. Tamara became an 8-figure self-funded entrepreneur in her 30s through creating and selling eco-luxe beauty and wellness products online, direct to consumer.
Her mandate of non-toxic, Vegan, Cruelty-free products that are sustainable has attracted a loyal following. All products have giving embedded as a cost of goods, generating impacts to United Nations Sustainability Goals.
As an advocate for net-positive brands and 'business for good', Tamara recently co-founded Beusail, a marketplace and community where conscious consumers use their purchasing power to make a collective positive impact. Beusail's mission of 'Buy 1, Support 1 and Give 1' supports female founded brands that are ethical and committed to giving back.
All brands in the marketplace are vetted to ensure they meet their strict mandate, which includes being 51% female founded. Conscious consumers shop with confidence knowing they are receiving eco-luxe products that are safe, sustainable and impactful.
Tamara's legacy is to contribute 10M Buy1Give1 impacts per annum. As a subscriber to the 'profit and purpose' philosophy, Tamara passionately believes business will change the world's problems, not government. She also acknowledges that this is no longer isolated to billionaire entrepreneurs but businesses of any size.
Since its launch in 2021, the marketplace has supports dozens of female brands through online sales. It's also created over 25,000 impacts to the SDGs to date.
After 25+ years in business, Tamara attributes her success to having access to mentors and access to a global network. As part of her commitment to bridging the gap in female entrepreneurship, Tamara Loehr has also turned her focus to mentorship. With a scarcity of 8-figure active female mentors, Tamara wanted to create a place where women could be supported and mentored in their entrepreneurial journey, no matter what stage they were at.
This gave birth to the Beusail Academy, which was launched in conjunction with the marketplace, providing mentorship to female founders from around the globe.
Since launching the Academy, Tamara and her business partner Natalie Nichols have mentored and support hundreds of aspiring and established entrepreneurs to help fast track their growth. Each year the Beusail Academy mentors and trains women in business that total over $450M per annum in revenue. Their mentorship contributed to an average of 44%+ in growth to last year's mentees businesses.
Tamara is part of less than 10% of women in Young Presidents Organisation (YPO). Originally a member of The Entrepreneurs Organization (EO), Tamara was the first member in Queensland to take the role of president in under three years. Tamara graduated the Entrepreneurs Masters Program at MIT in Boston (also known as the 'Birthing of Giants') in 2019 and is now an Alumni member.
With her business interests and now being in America, along with her focus on impact, Tamara is a founding member of the first Young Presidents Organization (YPO) Impacts Chapter, North Star, as well as a YPO Hollywood member.
Her book 'Balance is B.S: How to have a Work, Life, Blend' is an Amazon best-selling release with over 200,000 followers online.
@tamara.loehr
Links to our Beusail ecosystem:
TO WATCH THE VIDEO INTERVIEW, CLICK ON THIS MP4 file link