Podcast/Video Interviews by Stephen Ibaraki
A Chat with Uri Levine: Passionate Entrepreneur; Disruptor; Two-time 'unicorn' builder (Duocorn); Co-founder, Waze; Co-Founder and Chairman at Pontera (formerly FeeX); Co-Founder, Chairman at FairFly; Co-Founder & Chairman at Refundit; Co-Founder & Chairman at Fibo; Investor & Board Member at SeeTree; Investor & Board Member at Dynamo; Investor & Board Member at Kahun; Chairman at Zoomcar; Board Member at Infosys; Author: "Fall in Love with the Problem, Not the Solution" – A Handbook for Entrepreneurs, release January, 2023
This week, Stephen Ibaraki has an exclusive interview with Uri Levine.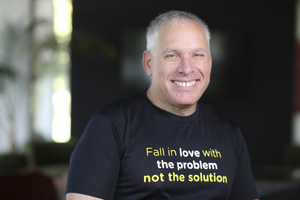 Uri Levine (http://urilevine.com/) is a passionate entrepreneur and disruptor, a two-time 'unicorn' builder (Duocorn). He is co-founder of Waze, the world's largest community-based driving traffic and navigation app, which Google acquired for $1.1 billion in 2013, and former investor and board member in Moovit, 'Waze of public transportation, which Intel acquired for $1 Billion in 2020.
Levine heads the "The Found CHAOers Kitchen," a company-builder fund. Among Uri's startups are Pontera (formerly FeeX), FairFly, Refundit, and SeeTree, and he is always working on the next one. Also, Levine's first book, Fall in Love with the Problem, Not the Solution – A Handbook for Entrepreneurs, will be published on January 17, 2023.
Levine's vision in building startups is to disrupt inefficient markets and improve under-functioning services, focusing on solving "BIG problems" and saving consumers time and money while empowering them and changing the world for the better.
Uri has been in the high-tech business for the last 30 years, half of them in the startup scene, and has seen everything ranging from failure, moderate success, and big success.
He is also a world-class speaker on entrepreneurship, disruption, evolution vs. revolutions of markets, mobility, and startups. Motivated to encourage the next generation of thinkers and innovators, he also leads an academic workshop entitled "How to Build a Startup," aimed at undergraduate and graduate-level business students.
Levine is a BA graduate from Tel-Aviv University. Before attending University, he served in the Israeli army at special intelligence unit 8200. In his public activity, he serves on the board of trustees at Tel-Aviv University. He also mentors young entrepreneurs at the Zell Entrepreneurship Program at Reichman University (IDC Herzliya).
The startups Levine is Co-Founder, Chairman or Board Member, with the agenda of 'doing good and doing well,' include:
Co-Founder and Chairman at Pontera (formerly FeeX) that helps individuals retire wealthier by allowing them to work with their financial advisor on held away accounts like 401(k), 403(b), 529, and more. Pontera enables more holistic wealth management and better retirement outcomes for their clients.


Co-Founder, Chairman at FairFly that addresses the biggest secret in the travel industry: What happened to airfare AFTER the booking. FairFly helps corporates to save 10% of their travel budget.


Co-Founder & Chairman at Refundit, an advanced, fully digitized service with a simple mobile app that simplifies tax-free shopping and helps tourists obtain their VAT refund, saving them the time, paperwork, and lines at the airport.


Investor & Board Member at SeeTree, which responses to the particularly devastating challenges in permanent crop farming such as crop losses, epidemics etc. Seetree provides a unique intelligence platform for tree-farmers fusing AI/ML, IoT multi-sensory data, and other advanced technologies to enable them to manage their permanent crops best.


Co-Founder & Chairman at Fibo: All over the world, filling tax returns is either a lengthy and complex process or costly. Fibo's online service minimizes the filing process in less than five minutes, providing employees with a fast and easy way to complete their tax returns.


Investor & Board Member at Dynamo: Dynamo, with its On-The-Go Learning platform, brings learners (students/employees) to learn much more with zero extra effort. Its product, Dynamo10x, offers a unique user learning experience that boosts gaining and maintaining knowledge without changing content or education methods.


Investor & Board Member at Kahun: Kahun re-invents the way medical professionals interact with evidence-based medical knowledge. Its technology enables creating a comprehensive medical knowledge graph and the generation of clinical insights using an inference algorithm engine.


Chairman at Zoomcar: The largest car-sharing marketplace covering emerging markets. Zoomcar is India's first personal mobility platform and today a market leader in the self-drive space. In 2018, Zoomcar introduced India's first peer-to-peer-based marketplace for cars with the launch of its shared subscription mobility model and currently commands over 90% market share in this space.


Board Member at Infosys: Infosys (NSE: INFY) is a global leader in next-generation digital services and consulting, with clients in more than 50 countries, 250,000 employees worldwide, and a market cap of $90 Billion. The company's always-on learning agenda drives its clients' continuous improvement through building and transferring digital skills, expertise, and ideas from the innovation ecosystem.


Booksite: https://bit.ly/Fallinlove0600
Book Trailer: https://bit.ly/FallinLove0203
Uri's Linkedin: linkedin.com/in/uri-levine
TO WATCH THE VIDEO INTERVIEW, CLICK ON THIS MP4 file link