INTERVIEWS
Podcast/Video Interviews by Stephen Ibaraki
A Chat with Sateesh Seetharamiah: Pioneer in the field of IoT, AI and Intelligent Automation; CEO of Edge products, EdgeVerve Systems Limited (An Infosys Company), board member and Whole-time Director at EdgeVerve
This week, Stephen Ibaraki has an exclusive interview with Sateesh Seetharamiah.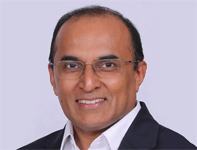 Sateesh Seetharamiah is a pioneer in the field of IoT, AI and Intelligent Automation, and a member of the MIT AutoID Lab - the taskforce that defined interoperability standards for IoT and use cases that eventually became household applications. Sateesh has spoken extensively about the promise and perils of extreme automation. He recently introduced the concept of process discovery, as a fundamental capability to enable machine learnability.
He is CEO of Edge Products, EdgeVerve Systems Limited (an Infosys Company).
He has extensive industry knowledge on the importance and impact AI, automation, and data analytics have in driving efficient and secure digital transformations for enterprises across several industries, including finance, retail, manufacturing, and healthcare.


TO WATCH THE VIDEO INTERVIEW, CLICK ON THIS MP4 file link