INTERVIEWS
Podcast/Video Interviews by Stephen Ibaraki
A Chat with Pieter Abbeel: ACM Prize in Computing in 2022, Professor and Director of the Robot Learning Lab at UC Berkeley, Co-Director of the Berkeley AI Research (BAIR) Lab, Co-Founder of Covariant[2017- ], Co-Founder of Gradescope [2014-2018, acquired by Turnitin], Founding Investment Partner at AIX Ventures, Host of The Robot Brains Podcast
This week, Stephen Ibaraki has an exclusive interview with Pieter Abbeel.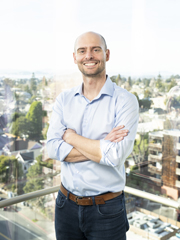 Pieter Abbeel is Professor and Director of the Robot Learning Lab at UC Berkeley, Co-Director of the Berkeley AI Research (BAIR) Lab, Co-Founder of Covariant [2017- ], Co-Founder of Gradescope [2014-2018, acquired by Turnitin], Advisor/Investor to many AI/Robotics start-ups, Founding Investment Partner at AIX Ventures, Host of The Robot Brains Podcast.
Abbeel did his PhD under supervision of Prof. Andrew Ng, during which he pioneered advances in robot learning. Most notably, his PhD thesis work studied imitation learning and reinforcement learning for autonomous RC helicopter flight, enabling autonomous execution of a wide range of acrobatic maneuvers, challenging to even the best of human pilots. In 2008 he graduated from Stanford and started his professorship in Computer Science at UC Berkeley. His lab at Berkeley is one of the world-leading labs for machine learning and robotics. His group focuses on making robots learn from people (imitation learning), how to make robots learn through their own trial and error (reinforcement learning), and how to speed up skill acquisition through learning-to-learn (meta-learning). His robots have learned knot-tying, basic assembly, organizing laundry, locomotion, and vision-based robotic manipulation. His courses on Artificial Intelligence, Advanced Robotics, and Deep Unsupervised Learning are some of the standard references for the field.
Abbeel is an active entrepreneur, he has founded two companies (Gradescope and Covariant), and spent the two first years at OpenAI (the AI research organization in San Francisco co-founded by Elon Musk). Gradescope provides instructors with AI that can significantly speed up grading of homework, projects, exams, and is used at over 1,000 universities. Covariant builds AI for the next generation of robotic automation, enabling robots to see, react, learn (rather than executing preprogrammed motions as robots do in car factories). Abbeel is also an active start-up investor and advisor. Abbeel is founding partner at AIX Ventures, a Venture Capital firm focused on AI start-ups. He advises many AI and robotics start-ups, and is a frequently sought-after speaker worldwide for C-suite sessions on AI future and strategy.
Abbeel is the host of The Robot Brains podcast, which explores what AI and Robotics can do today and where they are headed, through conversations with the world's leading AI and Robotics pioneers, including Tesla's Director of AI Andrej Karpathy, OpenAI's Director Ilya Sutskever, Zipline's founder Keenan Wyrobek, Turing Award winner Yann LeCun, AI visionary Fei-Fei Li. He has won numerous awards, including best paper awards at ICML, ICLR, NeurIPS and ICRA, early career awards from NSF, Darpa, ONR, AFOSR, Sloan, TR35, IEEE, and the Presidential Early Career Award for Scientists and Engineers (PECASE). His work is frequently featured in the popular press, including New York Times, BBC, Bloomberg, Wall Street Journal, Wired, Forbes, Tech Review, NPR.
TO WATCH THE VIDEO INTERVIEW, CLICK ON THIS MP4 file link