INTERVIEWS
Podcast/Video Interviews by Stephen Ibaraki
A Chat with Dr. Tom Harty and Dr. Chris Ballance: Physicists; Pioneering Researchers in quantum computing; Founders, Oxford Ionics
This week, Stephen Ibaraki has an exclusive interview with Dr. Tom Harty and Dr. Chris Ballance.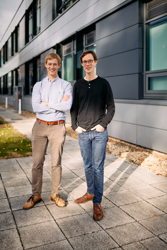 Chris and Tom have been working together at the forefront of Quantum Computing for over a decade. They earned their PhDs in Quantum Computing from the University of Oxford focussing on trapped ion quantum computing. During this time they set world records including the highest performance quantum logic gates, longest qubit memory coherence time, fastest and highest performance quantum network. They founded Oxford Ionics in 2019 to continue the journey towards world-changing quantum computers.
Back-story:
Drawn toward physics in schooldays, Tom was most interested in understanding its conceptual foundations and so in 2005 he started his studies in Physics and Philosophy. Covering many areas of physics over the course of his degree, Tom decided that quantum computing was the one which was both at the frontier of human understanding, and which could be used to build impactful technology that could meaningfully change people's lives.
Chris' undergraduate degree was in Physics which he started in 2006. After this he chose to specialise in quantum computing. He was strongly attracted to the grand challenge to build a very difficult technology, the impact of which would unlock so many exciting and interesting applications.
Both independently considered and assessed different quantum computing approaches before selecting trapped ions for the same reasons -that the inherent perfection of atoms was the best way of solving the "error problem" that had held quantum computing back. Tom joined the ion-trapping research group at Oxford to start his PhD in Quantum Computing in 2009, and Chris the year after in 2010.
They've worked together ever since and the working relationship established where one would robustly challenge the other to work through each other's problems.
In 2014 Tom and Chris, together with the team at the Oxford ion-trapping group, demonstrated the highest performance single-qubit gates and longest coherence time qubit, published in Physical Review Letters (Phys. Rev. Lett.113, 220501), and the next year the highest performance two-qubit gates (Phys. Rev. Lett. 117, 060504). These two benchmarks remain the world record measures of one- and two-qubit gate fidelity in any physical quantum computing system.
Other published and still-standing world records were set by Tom and Chris in this team: in 2017 the fastest gate speed for a trapped-ion qubit (Nature 555, 75–78 2018); in 2019 the longest quantum memory-coherence time for a physical qubit (Phys. Rev. Lett. 123, 110503); and also in 2019 the fastest, highest performance quantum network (Phys. Rev. Lett.124, 110501)
Outside of Oxford, Tom and Chris both spent time with other leading research groups around the world, Tom in the group of Nobel laureate Dave Wineland at the US's National Institute of Standards and Technology in Boulder, Colorado. Chris spent time with the ion-trapping ground at ETH in Zurich. They've also collaborated with all of the other UK academic institutions involved in the field, notably on the NQIT program, a grand challenge inside UK academia to build a quantum computer, which ran from 2014 to 2019, and was succeeded by the Quantum Computing & Simulation Hub.
Tom and Chris characterise the challenge of building a high-performing quantum computer as requiring a unique combination of abilities across physics, engineering and computer science. The approach of getting different domain experts to work together to solve the right challenges optimally and in the right order, carries through to the way that Oxford Ionics is structured and works today.
Hermann, OI origin story
Hermann Hauser, founder of ARM, who joined Oxford Ionics' recent Series A round planted the seed of starting the company in Tom & Chris' minds back in 2016. Chris was seated next to Hermann at a dinner at the Royal Society, and gave a talk about quantum computing beforehand. Over dinner Chris told Hermann that he could see exactly how quantum start-ups should be approaching the challenge of building useful quantum computers but had not yet come across one that aligned with this. Hermann said Chris' vision was compelling and that he should take this conviction and do it himself.


TO WATCH THE VIDEO INTERVIEW, CLICK ON THIS MP4 file link